Unleaded : P41.37 / Liter
USD 1.00 : 50.43 Php

The kids have been going to bed early these past few days and I've been catching up on the tv. Watched House on Monday, Letterman Tuesday (Sharapova!). Tonight it was Jeopardy! I sat up quick when I saw that the lone girl contestant looked distinctly Pinay. (Don't ask me how we do it but we Pinoys can spot a fellow Pinoy like the word was tattooed on their foreheads, am I right people?)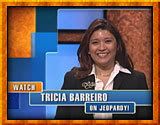 Her name was Trisha. I didn't catch her surname so I thought the only time Trebek would say it again was if she won which looked like a long shot in the early going. She ranked last after the Jeopardy round but had a streak off the bat in Double Jeopardy. At the end of that round, she placed second with $8000 to the champion's $14,800. In Final Jeopardy the champ fumbled; our suspected Pinay nailed it and wagered enough to win.

Trebek congratulated his new champ, "Trisha Barrero". I typed it in and quickly got lost in Googleland. After a few sidesteps, I hit the right track. It turns out her name is Tricia Barreiro, "an interactive project manager from Santa Monica, California..." and Pinay indeed (GI in fact). Graduated with honors from Poveda and packed up for the states in '87. Turned 30 in 2003, single and looking. Loves traveling and game shows. She even won Ben Stein's money a few years back.

The Jeopardy stint was fairly recent (May 23, 2006) and is discussed in the Jeopardy Boards, detailed in J! Archive. I peeked at the thread about her next game and something interesting came up during chit chat:

"COIN CON CONNOISSEUR"

Alex: Tricia Barreiro is our champ. She's from Santa Monica, and she has a little strange streak in her, I think, because you taught the daughter of a foreign ex-president to do something illegal. What? Who was the ex-president?

Tricia: Oh, gosh! I don't wanna name names.

Alex: What country?

Tricia: The Philippines.

[Laughter]

Alex: Okay.

Tricia: There's not a lot to choose from.

Alex: Uh-huh. Was it a man or a woman?

Tricia: Okay, well--oh, gosh.

Alex: And what did you teach the daughter to do?

Tricia: Well, there's a public pay phone that used to take four different kinds of coins, but it's really hard to get four coins together, but it was quite easy to get two or three, and we figured out how to use two. So one day, the daughter walked up and said, "Does anybody know how to use the 2-coin trick?" And all my friends turned and pointed to me!

Alex: You don't even need the coins. If you hit it in a certain--well, that's another story.


(Hey! I knew how to do that 2-coin trick on those red payphones that took 4 ten-centavo coins. A rare craft, but it's not asked in her compatibility test.)

So who's the presidential daughter? She's the one who's been in a number of game shows herself -- as the person who uses her brains the least but never goes home empty-handed.